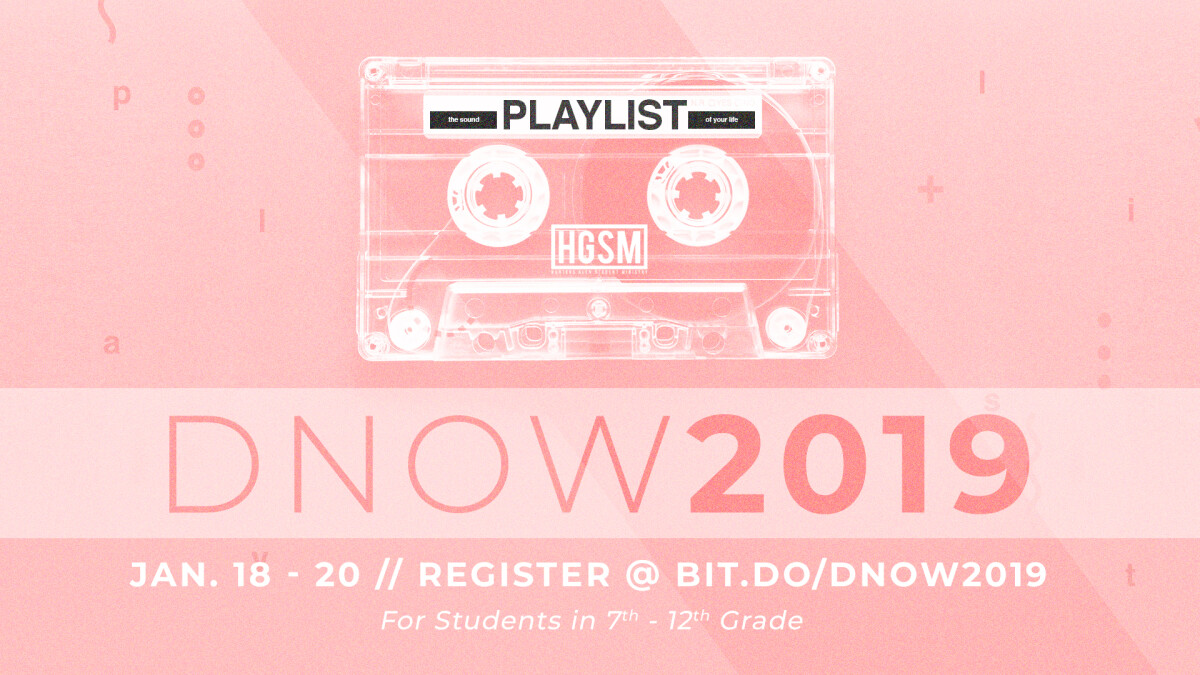 Friday, January 18, 2019 - Sunday, January 20, 2019
We are so excited about this weekend and about you joining us! Many people think that the gospel is lived out like mountain climbing and that once you get to the top, you've arrived. Been there, done that. Seen that. Heard that. We believe that it is so much more. There is always something new and exciting. Something life changing that is meant for more than just a one time thing or mountain top experience. Something that is meant to be discovered again and again. With that said, our hope is that the students who participate in this amazing weekend will have a better understanding of what the gospel is and also what it means. Their lives have a PLAYLIST on repeat and we pray students leave this weekend knowing exactly what kind of sound is amplified from their life!
What is Disciple Now?
Disciple Now is a weekend specifically intended to disciple students. The students will be staying with an HGBC family in Plano and surrounding area. These are called "Host Homes." Along with the host home family, each group will have 1-2 college leaders that will lead the small group discussions. On Friday night, Saturday morning, and Saturday evening, students will attend a large group worship service. After this, they will return to their host homes for small group discussions and fun. While discipleship is the main goal of DNOW, we do try and plan some fun activities that will help students build good, Christ-centered relationships.
Where do I drop off my students on Friday?
You can drop your students off at the Student Center between 6:30 - 7 PM.
When does DNOW end?
Sunday after the 11 AM service.
How much does it cost?
$80 per person // $60 for siblings // $20 for new friends
How do I register?
Fill out the DNOW form online or in person.
Complete and turn in the form to an HGSM leader, along with a cash or a check made out to Hunters Glen Baptist Church.

Where will my students be staying for the weekend?
We have several HGBC families that have agreed to be "host homes", and your students will be at their designated "host home" Friday night - Sunday morning.
How will the groups be divided up?
Groups are divided by grade and gender.
How many adult leaders will there be per group?
There will be at least one, but possibly two college-aged leaders per group depending on size.
What should I bring?
Clothes for the weekend (including messy clothes for Saturday CHAOS)
Towel & Toiletries
Sleeping Bag (and maybe one for a friend who doesn't own one)
Pillow
Bible & Pen
SNACKS (your own stash and some to share with your group)
What should I NOT bring?
Weapons
Drugs/Alcohol
Electronic Devices (cell phones are allowed, but not iPods, tablets, etc.)
Anything having to do with pranks… leave it at home.
Anything you think would be taken away or stole if you brought it
Unicorns, lazer beams, and crossbows… just, yeah…
What about the food?
Food will be provided, but students are encouraged to bring snacks for themselves and for their small group to share if they want!
If your students has food allergies/specific dietary restrictions please let us know.